COOKING
In a region where gastronomic history is so dense and made of countless layers, we have been inspired by the flavors, the ways of cooking and the products of the region.
In our kitchen we're always open to teach everything we know, but also to learn from those who come to us. Here we all give a little of who we are, so that more than a simple hotel stay this can be a true gastronomic experience. To do this we count on the years of experience and dedication of our team to the Alentejo cuisine, from mastering the art of making bread to the Cocaria cooking tradition.
Every month our Chef team opens our kitchen, in a journey through the gastronomic origins, helping you to handle the most elemental cooking bases. From a monthly workshop calendar, in which you'll stimulate your senses with our aromatic herbs, learn to cook the region's famous migas de pão or how to knead the pizza dough with your children, to cooking lesson or themed weekends, we assure you'll get what you need to wow your friends and family during a meal at home.
Come visit us and get your hands dirty.
---
Cooking ACADEMY
Creativity bears more fruit when shared. Why not invite a friend or family member and sign up for our cooking classes? For a maximum of 4 people per class, we cover various kitchen topics, from which knives are best for each type of food and cut – and how to use them without running the risk of cutting our fingers, the secrets of national sweets or from traditional Portuguese cuisine to a journey through international cuisine. The next time they ask you for sweet rice for dessert or rissoles for starters, you will be able to surprise and leave everyone wanting more.
See our classes and conditions below.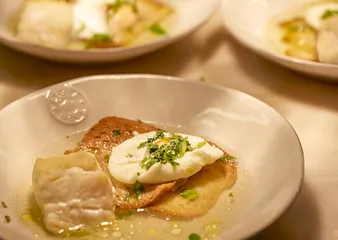 Açorda is a soup made by scalding the ingredients.
A hot, clear broth flavoured with coriander or pennyroyal, or both, crushed garlic with sea salt, and seasoned with olive oil. Slices or chunks of wheat bread, preferably home-made and hard, give it consistency. Make two açordas and learn the differences between them: Açorda Alentejana

Conditions: Book in advance via email at reservations-santiago@octanthotels.com or [ONLINE]. For groups larger than 4 people, please contact the hotel. Cooking lessons may be changed without prior notice.